I am so happy to introduce to you a BRAND NEW Link Up for all of you Pinners!
Join us for week #2.
Do you love being inspired? Well, we sure hope so!
This is a great excuse for you to spend MORE time pinning away.
This is is a weekly challenge.
Treat this like a scavenger hunt.
...and here are the topics for the next FIFTEEN WEEKS!
I know right, so fabulous!
HOW TO PARTY: All you are going to do is, pin away and post it!
Link up your 'I'd Pin That!' post with us every week.
You can link up on any of our blogs and please invite your friends.
Do link back to our party though. Please grab our button to flaunt too.
The more the merrier. **Remember to come back every Thursday!**
:: you are more than welcome to link up your Pinterest post as well, we would just love for you to join the challenge ::
AND, we are looking for guest judge(s).
You will get to choose your most favorite pins.
The most clicked item will be the "Pinning Queen"
Please be very careful with your pins.
Always, always, ALWAYS link back to the original source and make sure the source is stated.
This is just for fun, no stealing items and claiming them as your own >> unless they really are.
If that does happen; sorry Charlie - you will have to hit the 'ol trash can.
We want this to be fun and fair.
The originator, creator, etc. deserves their credit. Give all credit where it's due!
These are my flower pins this week.. I love them!
How cool is this?
Vintage flower pot
How pretty is this?
I want this mixer SO bad!
The Pioneer Woman
has one.
How pretty are these nails?
Now, PARTY WITH US! Are you ready to enter the giveaway? Sure you are! Please share our button on your site or in your post.
Please, please, please link up with your "flower" pins/post below...
~not just enter the giveaway.
Follow your host: Stephany, Crystal and Amanda.
Have fun and come back every Thursday!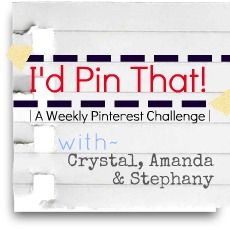 Link your "Flower" Pins Now!